This is a Mama Buzz review. The product was provided by Timberdoodle for this review.
Recently, I have been trying to make more time to sit down and play with the boys. Of course, finding something that both of them like to play – other than trains – can be difficult.
At the MOPS convention I went to a month ago, one of the sessions challenged us to carve out one-on-one play time with each child at least once during the week. Doesn't sound that difficult, but the week fills up fast!
The first time I did this with Jeremiah, his response was amazing – he was so thrilled and couldn't wait for more time with just Mommy. I was really touched and definitely wanted to do more.
So I was very excited when this product showed up on our door step…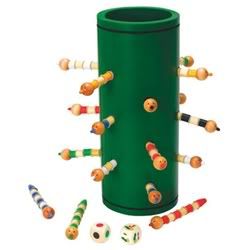 Rapelli (by Timberdoodle) is a game that teaches color-matching, counting and even a little early strategy – although I think that last one was lost on my three-year-old!
Here are the game instructions:
The 18 colorful caterpillars are blissfully munching their way through the bamboo tube. Roll the first die to determine the color of the caterpillar you need to move. Then roll the direction die and count the number of segments the caterpillar moves in or out of the bamboo.
Jeremiah was immediately captivated by the bright colors when I pulled it out of the box. Add to that the cute little caterpillars and he was ready to play!
At first, he just wanted to play with the caterpillars so I had to keep us on track with rolling the dice, taking turns, etc. But even after one game, he was really starting to get the concept.
The game is listed for ages 4 and up and I would have to agree with that age range. while Jeremiah enjoys it and gets most of the concepts, the strategy part is lost on him for the most part and he needs lots of help with addition and subtraction aspects.
But even with these limitations, he LOVES this game. He asks to play it often. He even wanted to play it when his friend of the same age was over last week. And he was "teaching" the friend how to play! It was so cute!
Now for what I love about Rapelli…
It is made out of quality materials. It is solid, natural and nice to look at it. And it doesn't make any noise 🙂
It is actually fun to play even as an adult because of the strategy involved. My husband and I have both played it with Jeremiah now and enjoyed ourselves. Maybe we'll pull it out one of these days and take on each other!
And most importantly, it is giving me another way to have quality learning time with Jeremiah disguised as fun! I love being sneaky like that!
Rapelli comes with one large bamboo tube, 18 caterpillars in six colors, one action die and one color die, is made for 2 to 6 players, and is available here for $21.50.
With Christmas right around the corner – that's right, I said it – I think Rapelli would make an excellent present for children preschool age and up!
Thank you so much to Timberdoodle for allowing us to review this product!