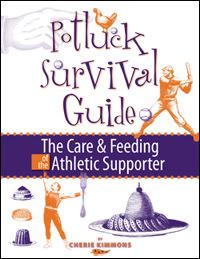 This is a Mama Buzz review. The product was provided by:
Five Star Publications for this review.

Potluck Survival Guide
by Cherie Kimmons
Price: $18.96, regularly $24.95 – go here to order
I love cookbooks.
No, I really LOVE cookbooks.
I know I can find millions of recipes online and I do use the internet quite often to find them, but there is nothing quite looking looking through a cookbook.
I was thrilled to get this cookbook – really so much more than a cookbook – to review!
Potluck Survival Guide: Care and Feeding of the Athletic Supporter by Cherie Kimmons is a manual for feeding large groups of people – athletes, adults, kids, anyone! The book is full of tried and true recipes and tips for hosting any gathering – even feeding the kids at the ballpark after a game!
Now, my children are not old enough to be involved in organized sports yet, but this book actually makes me excited for the day I have a team dinner at our house or organize the band potluck.
I could make a whole post on the yummy recipes in the Potluck Survival Guide, but I will just name a few that peaked my interest:
*Nana's Garlic Brisket
*Flank Steak Pinwheels
*Chicken Paella
*Fried Bread
*Nutty Cereal Snack
*Apple Pockets
Now, an experienced soccer mom might say that the ideas in this book aren't anything new – but that's not the point. For someone like me who is new to this style of cooking for the masses, this is EXACTLY the book I need.
I love the suggestions for food bar ideas – Baked Potato, Chili, Waffle, Sundae, etc. – as well as buffet tips and guidelines for feeding athletes. There are basic recipes with lots of listed variations and helpful notes on every recipe page.
One of the most useful sections to me is the "Numbers Game" – a guide for calculating the amount food based on the amount of people! How many times have I tried to figure that out, only to be WAY off in one direction or the other?!
The only downfall to this book for me is the lack of food pictures. I really enjoy seeing a picture of what I am making, and while this book is very colorful and well illustrated, it does not include pictures of the recipes.
Other than that, I find the Potluck Survival Guide to be a very useful tool for any large event involving food! I cannot wait for the next church or MOPS potluck to try something out! Maybe even over Christmas with my family!
Thank you to Ms. Kimmons and Five Star Publications for including me in this review tour!