I'm giving a new Wednesday blog hop a shot because I LOVE the blog its hosted on SO much! And the blog hop is a GREAT idea – very informative!
So here is my first…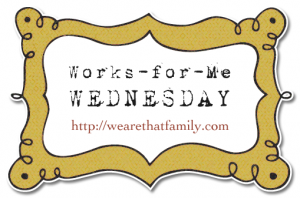 And this one is definitely a "Works for ME" post because it might not be for everyone.
Why?
Not everyone has a husband who is as organized as mine. Or would appreciate what he did for me like I did.
I have a very hard time getting daily life under control and doing the important things first, whereas this is quite natural to my husband.
So I looked to him to help make a daily schedule for the boys and I that encompasses everything we need and want to do in the week.
Actually, he completely wrote the whole thing.
He scheduled quiet time and workout time for me, daily chores, and even time for outings and activities for the boys and I.
And that totally worked for ME.
Now, I know some women would be totally appalled or freak out if their husband ever did something like this for them.
But there is much to gain from this exercise, even if you don't like the way he scheduled everything. (For the record, I changed only two things for the whole week – my hubby KNOWS how to plan.)
First of all, you can get an idea of what he thinks your day looks like. In all reality, he may have no clue what goes on during the day while he is gone. This could open up a great conversation about what you and the children do all day.
Secondly, he may surprise you and add in some special things he would like for you to have during the week! My hubby scheduled a weekly lunch with a friend – I love that he thinks I should make time for that every week!
Thirdly, and most importantly, you get to see what is important to him. This is HUGE for improving communication and showing respect to your husband. For instance, I HATE to iron, but as the wife of a soon-to-be doctor, ironing is a given. My husband scheduled 30 minutes of it twice a week. This showed me it was a priority to him AND that he knew I couldn't take more than that amount at one time. SUCCESS! Even if you do not stick exactly to the plan he makes for you, including in your daily routine the things he felt important enough to mention shows that you respect and love him.
If you don't think you and your husband could work through something quite this detailed, I HIGHLY recommend taking this challenge presented by Courtney from Women Living Well, one of my most favorite blogs in all of Bloggy Land!
Have you tried anything like this with your spouse? Which one of you is more organized? I can't be the ONLY one with a husband who is more detail-oriented, can I?
*****
If you like what you read here at Home with the Boys today, take a moment to subscribe to our feed or sign up to get our posts sent to your e-mail!