These last five days have been FULL to the brim with emotion.
The whole spectrum of emotion fit into less than a week can be a little draining, but it is also a picture of what God has built into each of us as His creation…
Intense grief and sadness over a life well lived, but MUCH too short, at our friend's memorial service.
At the same time, such gratitude at the smiles and life he brought to all of OUR lives.
The fun and excitement of a little boy's third birthday, as well as the sheer exhaustion felt at the end of an amazing day with good friends and family.
The satisfaction and feeling of accomplishment for the hubby as he finished his third year of medical school. Only ten months to go!
The joy of a wedding – seeing old friends and celebrating a new union!
And now, contentment and peace as I sit on the couch next to my hubby who is now on break for the rest of the week.
Thank you Lord for allowing us to feel all of these emotions and for being right there with us as we do.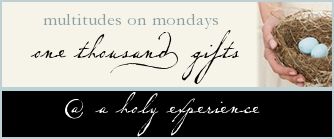 And more blessings from the week…
501. I'm going to be an aunt again – my little sis is expecting her first! Woohoo!
502. A beautiful wedding.
503. Protection from storms.
504. Wedding cupcakes.
505. And birthday cake.
506. Road trips.
507. New scenery.
508. Vacation plans coming together.
509. College friends back together.
510. Good books.
511. Time to write.
512. Time to plan.
513. Outdoor parties in the summer.
514. Chick-Fil-A. Amen.
515. The joys of label-making.
516. Grilling.
517. Brothers who really do care about each other.
518. Naps.
519. The arrival of Cars 2 on Little J's birthday and taking his cars to see it!
520. And this is the testimony, that God gave us eternal life, and this life is in his Son. Whoever has the Son has life; whoever does not have the Son of God does not have life. ~1 John 5:11-12
*****
What emotions have you experienced this week? A range or maybe just one in particular?
*****
And how about a few winners today?!
How to Get a Job, By Me the Boss – Randi, Latrice, and MattB
$50 DaySpring Store Credit – Ingrid
Congrats to all of you! Check your email to claim your prize!
*****
Last thing: I'm over at The MOB Society today writing about praying for protection – won't you join me?