Coming off of a weekend without kids and I can't wait to see their squishy little faces again!
We had a WONDERFUL weekend, including tennis, yummy food and laughter with the hubby, fun friend time and one of my best friends giving birth to a precious baby girl!
We also put together a little surprise for the boys! We were BUSY but it was fabulous!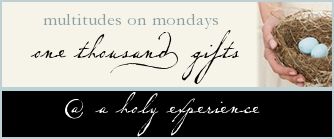 Counting our blessings…
471. Sprinklers.
472. Sunshine.
473. Playing cards at McDonald's until midnight.
474. Tennis with the hubby.
475. A WHOLE kid-free weekend with the hubby!
476. Surprise room makeover for the boys.
Before…
After…
477. Play date with new friends.
478. Concerts by the boys.
479. Laughing at the same things as my hubby.
480. The roars of our leopard and tiger.
481. Running three times longer at one time than I had the previous run!
482. The rain that made me run that much longer AND faster!
483. Trying new recipes.
484. Stocking the freezer.
485. Crocheting newborn hats for friends.
486. Cleaning in silence.
487. Farmers' Market pecan roll.
488. This post about perseverance in training our children.
489. Reading Day of War.
490. Put on then, as God's chosen ones, holy and beloved, compassionate hearts, kindness, humility, meekness, and patience, bearing with one another and, if one has a complaint against another, forgiving each other; as the Lord has forgiven you, so you also must forgive. And above all these put on love, which binds everything together in perfect harmony. ~Colossians 3:12-14
*****
What did you do this past wonderful weekend?