I know this isn't the norm…
I mean, the feature is called SATURDAY Seeds – our weekly vlog chronicling our goal to learn and memorize one Bible verse a week in 2011 with Seeds Family Worship, my sponsor for the Relevant Conference again this year!
But, this feature has been such blessing to me, I felt I needed to share it at least once on a Multitude Monday!
So what do we do?
We take one song from a Seeds Family Worship CD – right now we're working through Seeds of Courage – post the verse on our fridge with these lovely printables, and then do activities throughout the week to understand the verse better!
And after singing, reading and discussing the verse all week, it's not too hard to have it memorized as well!
This week we worked on Psalm 62:1-2 and here's what we came up with…
I loved researching more verses about God as our fortress and sharing them with the boys – boys and forts go hand in hand!
Here are a few of the additional fortress verses we studied…
"The LORD is my rock, my fortress and my deliverer." -2 Samuel 22:2
"The LORD is my rock, my fortress and my deliverer; my God is my rock, in whom I take refuge…" -Psalm 18:2
"The LORD is the strength of his people, a fortress of salvation for his anointed one." -Psalm 28:8
"But I will sing of your strength, in the morning I will sing of your love; for you are my fortress, my refuge in times of trouble." -Psalm 59:16
"Truly he is my rock and my salvation; he is my fortress, I will never be shaken." -Psalm 62:2
And my favorite find for MYSELF…
"Whoever fears the LORD has a secure fortress, and for their children it will be a refuge." -Proverbs 14:26
I can't think of many blessings bigger than discovering and learning the Word of God with my children!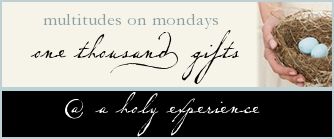 My life is FULL of blessings if I only look around…
281. Sleeping in.
282. A successful MOPS fundraiser!
283. LAZY Saturday afternoon.
284. Half-price appetizers for moms' night out!
285. Dessert pizza.
286. New motivation for physical fitness!
287. Another Goodwill sale!
288. The hubby driving five hours round trip to pick up the kiddos – THANK YOU HONEY!
289. NOT oversleeping on Sunday – yeah!
290. Sunday School lessons retold by a four-year-old. Love.
291. Shopping trip with my fab friend!
292. And Chick-Fil-A nuggets. Enough said.
293. "You are faithful God forever."
294. This post about renewing your goals daily. I needed this!
295. St. Patrick's Day week!!!
296. Listening to Christa Wells on a Sunday morning while getting ready.
297. The color green.
298. Simplifying.
299. Great big hugs from boys returning from a weekend away.
300. "The Lord is close to the brokenhearted, and saves those who are crushed in spirit." -Psalm 34:18 (Our Seeds Family Worship Verse of the Week!)
*****
Resources mentioned in the vlog:
Music from Seeds Family Worship, Vol. 1 – Seeds of Courage. Listen online for free here!
Get 20% off your Seeds order or pre-order their sixth album, Seeds of Character, now!