* Mama Buzz, and reviewers, were provided with a complimentary copy of this book for blog tour purposes*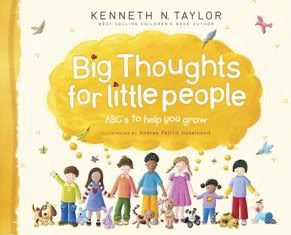 Big Thoughts for Little People by Kenneth N. Taylor
Ages 3-7
Hardcover retails for $14.99
I would first like to talk to all of my regular readers. I'm not sure how all of you feel about these reviews but I want to promise you one thing: I will always be completely and totally honest about how I felt about a product or book. If I dislike something, I will most certainly tell you because I do not want you to waste your money on something.
And if you don't like these reviews, well, you can skip them. But I warn you: you might miss out on some great stuff!
Like this book.
Big Thoughts for Little People is not a new book. Kenneth N. Taylor's original book came out in 1983 – when I was two years old! – so many of you may have experienced the text already. I had not. But there were several things that struck me right off the bat:
1. The full title is actually Big Thoughts for Little People: ABC's to help you grow. I love anything that I can use as an ABC resource for our preschool work at home.
2. The illustrations by Andrea Petrlik Huseinovic accompany the text beautifully. from what I understand, these are a new addition and I think they are fabulous. My son will sit and look at one picture forever, asking what each child is doing and telling me what he sees. I love to see the wheels in his head turn as examines each page.
3. And this is the most important one for me…It is Bible-based.
Here is how the book is set up:
Each letter of the alphabet starts with a poem. For instance, the "A" page starts like this…
A is for asking,
We ask when we pray.
God is happy to answer
And help us each day.

What follow is a mini-devotional to read to your child, explaining more about the poem. On the facing page is an illustration, which is referred to in the devotional. I love the visual reference, and as I mentioned before, my son does as well.
Next are some wonderful questions to ask your child as follow-up. Built-in conversation starters are such a bonus! Jeremiah and I have had some pretty deep (for a 3 1/2 year old!) discussions off of these questions. We have covered prayer, behavior, forgiveness, helping others, God's love and more – and we're only on letter H!
Lastly, for each letter, there is a Bible verse to tie it all together. Children are never too young to benefit from hearing Bible verses.
We try to read one letter a week to go with our preschool curriculum, but Jeremiah always wants "Just one more page!"
So, is this book worth $14.99?
YES!
It is a nice hardbound book that you are sure to read over and over again with your children. It is a great reference to use when a topic, such as lying or illness, comes up and you want a simple but Biblical way to present it.
I would highly recommend adding Big Thoughts for Little People to your library!
Thank you to Tyndale House Publishers for providing this book for us to review!