"31 Days of All Things Woman" would not be complete without a discusion of movies women love – also known as chick flicks!
Today, I've picked ten of my favorites to share with you – it was HARD to narrow it down but I knew all of these on the list had to be there! I did include an honorable mention at the end for other chick flicks I just love.
These aren't necessarily in any order, but the first three are my FAVORITES.
I hope you enjoy my list and add your own ideas in the comments!
*****
Top Ten Favorite Chick Flicks
1. Sleepless in Seattle – Tom Hanks and Meg Ryan are magic together. Just the right mix of sappy and funny. I can quote the whole movie. And the soundtrack is simply lovely.
2. You've Got Mail – Hanks and Ryan do it again. I honestly can't say which one I love more. I can quote this one as well. And another great soundtrack.
3. Pride and Prejudice – Oh be still my heart. The one with Keira Knightley. I love it so much I put it on my iPad to keep me company on my plane ride back from a conference last year. A beautiful, beautiful film.
4. Return to Me – Please tell me you have seen this. David Duchovny and Minnie Driver. You will cry your eyes out, but it is so wonderful. It is very clean and has a somewhat old-fashioned feel to it – love that.
5. Sense and Sensibility – Can you tell I like these period films? And this one makes me laugh and cry. I love Emma Thompson, and Hugh Grant makes such a perfect bumbling romantic fool.
6. The Proposal – I laugh so hard I cry EVERY TIME I watch this. Sandra Bullock is another one of my favorites. And Ryan Reynolds – hello?!
7. Much Ado About Nothing – I'm afraid many of you may have missed this, but listen to the cast: Kenneth Branagh, Emma Thompson, Denzel Washington, Robert Sean Leonard, Kate Beckinsale, Keanu Reeves and I'm sure I'm missing someone. It is marvelous. And I'm a sucker for Shakespeare in any form – written, stage or film.
8. My Best Friend's Wedding – Talk about a GREAT soundtrack. Julia Roberts is hilarious. The "happy ending" is not what usually happens in a chick flick. Love it.
9. Gone with the Wind – I needed to include a classic and what says "classic" more than Gone with the Wind?! Confession: I have the read the entire 1,000+ page book more times than I've seen the movie.
10. Hope Floats – This was my chick flick addiction during my first year of college. I won't admit how many times I sat on my bed watching it and bawling my eyes out. Sandra Bullock again, but with Harry Connick, Jr. this time. And the little girl is super duper cute.
*****
Honorable mention goes to…
Can't Buy Me Love, 27 Dresses, Devil Wears Prada, Emma, Runaway Bride, My Big Fat Greek Wedding, The Holiday, Sweet Home Alabama, A Walk to Remember, American President, An Affair to Remember, While You Were Sleeping, and on and on and on…
Ok, I'm just going to start a Pinterest board to pay homage to all of the great chick flicks out there as I remember them. I wouldn't want any of them feeling left out!
Now, what are YOUR favorites?
*****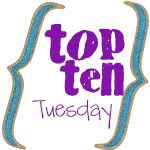 I'm linking up to "Top Ten Tuesday" over at Oh Amanda's perfectly purple place today! Have fun browsing through all the lists!