The hubby is in the middle of his family medicine rotation right now, just thirty minutes from our home, which is a nice change from the hour commute he usually has!
But even being thirty minutes away is rough when you're on call, so last week, the boys and I packed up and stayed across the street from the hospital with him while he was on call two nights in a row.
You would have thought I was packing for a month away, but you never know what you'll need in two days with two preschoolers!
But without internet, errands to run and chores to do for those few days, we had a lot of fun family time!
First, just learning, playing, and relaxing at the house…
And then at a local dinosaur museum, a.k.a boy heaven…
Changing things up a bit can be a HUGE blessing, especially when it means more time with the hubby and getting a glimpse of what our life could look like in a few years. It was fun to tour the hospital and be right there when he was called to help someone, even if it was three in the morning!
Have I mentioned what an AMAZING doctor he will be?!
I love that man. (Did you catch that, honey?! xoxo)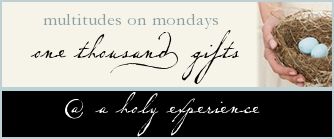 And the blessings continue to flow…
201. Seeing a friend again after 2.5 years… and said friend coming to church early just to see me and my boys!
202. Popcorn.
203. Studio 60 on the Sunset Strip on Netflix.
204. Veggie Tales Valentines from DaySpring. Too cute.
205. Bartering babysitting for a crocheted scarf.
206. Fabulous fellowship at MOPS.
207. Making up games with the boys.
208. Talking Valentine's gift ideas with my sis.
209. Almost 70 degree weather yesterday!!!
210. Sweet drawings and Valentines from both boys.
211. My discovery of Jones Soda – yum!
212. Planning fun things for all of my guys for Valentine's Day!
213. Time to read and crochet without dishes or laundry waiting for me.
214. A very special night with friends – more on this later this week!
215. "We love because God first loved us." 1 John 4:19
216. Chocolate-covered caramel apples from the in-laws. Oh sweet goodness.
217. The hubby taking care of me when I don't feel well.
218. New artwork. Can't wait to share this one with you!
219. Good friends who help at a moment's notice.

220. "For I am convinced that neither death nor life, neither angels nor demons, neither the present nor the future, nor any powers, neither height nor depth, nor anything else in all creation, will be able to separate us from the love of God that is in Christ Jesus our Lord." Romans 8:38-39
Happy Valentine's Day dear friends! May your day be filled with His love overflowing in your heart and to those around you!