You know when you work so hard on a big project that by the end you can hardly move and can't keep your eyes open, but your heart is full and happy at how God worked it all out in His perfect way?
That's me today.
Between that and some wonderful alone time with the hubby this weekend, all I can do this morning is count my blessings because they are spilling over…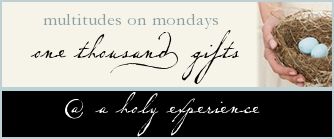 321. Riding along while the hubby golfed…
322. 2-year-old dimples.
323. Having the hubby home for NINE STRAIGHT DAYS!!!
324. New clothes – make that FUN new clothes!
325. New Christian music mix from the hubby – LOVING it. So many good songs!
326. Family trip to the local state museum – there is a whole room of woolly mammoth fossils!
327. Birthday meals with dear friends!
328. Last meal at Chipotle for a few weeks. Yum yum.

329. Fasting and waiting on God to speak into our lives.
330. 400 women and girls hearing they were EACH designed with beauty.
331. The words, testimony and smile of Hayley DiMarco (our guest speaker this weekend).
332. Being surrounded by adorable spring decor inside…
333. And blue skies outside…
334. 21 Days of Prayer for Sons. Thank you Lord.
335. Finishing the book of James and wanting to read it again to soak it all in.
336. Happy friend hugs. I really like hugs.
337. Wonderful parent-teacher conference at preschool – so proud of Big J!
338. FINALLY watching Inception with the hubs. Wowzers.
339. Another week to discuss 1 Corinthians 16:13-14 with the boys.
340. Laughing with my best friend.
*****
Share your blessings here as well! I am always encouraged by what other people count as blessings in their lives!