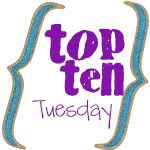 So I know these kinds of posts usually go up in the month before Christmas, but my family actually reads my blog so I couldn't post what I was making for them this year until AFTER they received their gifts!
And people still have birthdays in January, right? So you can use handmade gift ideas anytime!
Here are my…
Top Ten Favorite Handmade Gifts I Made for Christmas 2010
7. Handmade Glass Pendant Necklaces
(No tutorial – a friend's mom had all the equipment and taught us!)
6. Chunky Crochet Hat with Brim
(must be a Ravelry member to view – but it is free to join!)
5. McKinley's Springtime Crochet Hat (another Ravelry pattern)
4. Petite Scarf – Not a gift, but I just love it!
(I used a different flower pattern than listed.)
3. One-Skein Scarf – I made for this my dad, but I don't have a picture of him in it!
2. Loom-Knit Mobius Shawl (in a book I had!)
1. Flirty Ruffle Scarf and Wharton Wristers
And now we're having fun with crafts and such with all this cold weather! I love to keep these hands busy!
Have you been making anything with your hands lately? Crafts, gifts, food?