Yep, it is now my most favorite month of the year, for many, many reasons, which means it is time for…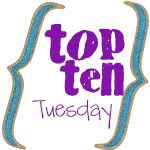 The Top Ten Reasons I Heart March!
(in no particular order)

1. St. Patrick's Day (March 17th) – I am a little too proud of my Irish heritage. I go a little crazy. Just wait and see…
2. My birthday (March 25th) – Shhh…it's a big one this year…
3. Samson's birthday (March 17th) – One of the reasons Samson became our Compassion child was his birthday – I just couldn't resist! I think God used it as a little extra nudge! He will turn FIVE this month! Happy birthday buddy! We love you!
4. Lots of other birthdays – I have lost track of the number of many friends and family who have March birthdays! Do YOU have a March birthday?!
5. The day we officially started dating (March 17th also!) – Eleven years ago. St. Patrick's Day. In Ireland. Perfection. My man knows how to create a lasting memory! Love you honey!
6. Spring – Oh sweet spring, how I have missed you.
7. Lion and lamb weather – I actually like the unpredictability of March weather in Nebraska! Go ahead, call me crazy. More than once, we've had school canceled on my birthday due to a blizzard, but other years, I'm in skirts and sandals to celebrate!
8. The return of rain – My most favorite part of spring weather – as long as I'm inside watching it out the window!
9. Green everywhere – Between St. Patrick's Day and the rebirth of nature all around us, I see plenty of my favorite color in March!
10. March Madness – I'm a sports junkie, but I really don't get into college basketball until March. And then it is super duper fun – lots of games at a time, brackets, upsets, Cinderella stories and so on!
What is your favorite month? Why?