FYI: I have a yummy recipe for Bread Machine Focaccia posted over on my food blog today, in case you're curious! It is Tasty Tuesday after all!

*****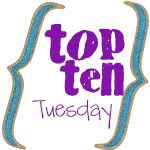 2010 was NOT a great reading year for me. (Remember my whole "follow-through" issue?!")
In fact, one of the only books I actually finished in 2010 was the Bible. Hello?! You think I could have finished something a little shorter pretty easily, huh?!
So, I'm making a list and FOLLOWING THROUGH this year! I will read each of these books and I will let you know what I though about each one as I finish it!
So here they are, in no particular order…
Top Ten Books to Read in 2011
One Thousand Gifts: A Dare to Live Fully Right Where You Are
I am counting my blessings every week because of Ann's Gratitude Community – I can't wait to be encouraged and challenged by her book. And she is even lovelier in real life than she is on her blog – so genuine and kind!
Organized Simplicity: The Clutter-Free Approach to Intentional Living
I need this. Exactly what the title says – I need it.
The Pioneer Woman: Black Heels to Tractor Wheels–A Love Story
I tried to read and keep up with this story on the blog but I kept forgetting where I was. So I just decided to wait for the book. And it will be out in February – WOOHOO!
Sheet Music
Kevin Leman
I have heard only rave reviews about this book – several have told me it is a book every Christian married couple has to read. So it's on my Kindle app now!
Reshaping It All: Motivation for Physical and Spiritual Fitness
Candace Cameron Bure and Darlene Schacht
Yep – need this one too. Especially the physical part!
Hinds' Feet On High Places
Hannah Hurnard
A dear friend lent me her extra copy of this book – I am eager to dive in. It sounds so interesting and thought-provoking.
The Reluctant Entertainer: Every Woman's Guide to Simple and Gracious Hospitality
Sandy's blog is fabulous and I want to soak in more of her wisdom in the area of hospitality – this book looks amazing!
The Mission of Motherhood: Touching Your Child's Heart for Eternity
This is one I started in 2010 – and it's time to follow-through! I love every word I have read so far and I will follow it up with…
The Ministry of Motherhood: Following Christ's Example in Reaching the Hearts of Our Children
I love the challenge found right in the title. I know Sally's books will stretch and grow me as a parent and a Christian. She is a gem.
The Me Project: 21 Days to Living the Life You've Always Wanted
I loved Kathi's Husband Project, so I know The Me Project will be awesome as well – and I kind of think of myself as a work in progress right now anyways – or all the time!
So what is on your list to read in 2011? Do you breeze through books or have a stack of unfinished ones?
(Disclosure: All book links are Amazon affiliate links!)